Complete Offroad
»
CURRIE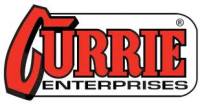 When you install a lift kit on your Jeep, you're going to want to put some work into the driveline angle as well. Currie is a well-known off-road brand that offers solutions for lifted Jeeps. This is largely due to the presence of the Currie name in the Jeeping community. The company is very active in all kind of events and competitions from off-road racing to rock crawling. This is a brand that encourages Jeepers to push their builds to the limit, and they offer the parts to get Jeep owners there.
Check out Currie parts in our online catalog such as:
Tail Shaft Conversion Kits: Kits like these for 32 spline shafts, or this for the YJ 231 transfer case, or this for certain TJ, LJ, and late XJ 231 models are made to reduce transfer case length for Jeeps with lift kits. They use a bigger main bearing, larger main shaft, and factory heat treatment parts.
Johnny Joint Front Adjustable Trac Bar: Parts like these are made by Currie to replace the stock trac bar in order to center the front axle assembly under your Jeep after installation of a lift kit.
Complete Off-Road if your best source for Currie parts. Check out what we carry for your Jeep now - lifting your Jeep doesn't end with a lift kit alone!
---
CURRIE Categories
---
CURRIE
Products