About Us


Complete Offroad is both an online retailer and brick and mortar shop
Complete Offroad is "The 4X4 Store" - we know 4x4 vehicles inside and out.
We have spent years building our company, our reputation, and our vendor relationships to be able to bring you the best products, great prices, and top notch customer service.
We don't just sell parts online through CompleteOffroad.com, eBay, and Amazon. We also have a full service shop where we sell, test, install, and service what we sell.
While Complete Offroad specializes in axles, differential parts and tools, we also do everything from full restorations, engine swaps, custom cages and tube work to installing bumpers, winches, lights, lift kits or a roof top tent. If it's 4x4 related, we're your store.
We are so confident in the products we carry that we have gone above and beyond any other vendor to offer an exclusive – Complete Offroad only - Lifetime Warranty on ALL Yukon ring and pinion sets purchased at MAP price!
We also have our own "Complete" brand of gears and axles. These are not cheap imports! These are high quality, name brand components rebranded to get the customer more bang for the buck. We WILL NOT put our name on cheap parts. If you want to know the manufacturer of any of our "Complete" branded parts, call us at 888-233-9667 - we will be happy to tell you.
How We Got Started
In 2005, our parent company, Seven Springs Customs (SSC), started by building our own line of Made in the USA Trail Defense differential covers, specialty differential tools, and steering components. In 2008, SSC purchased Complete Offroad, and together we have expanded our sales both domestically and internationally as well as focusing heavily on local involvement.
Community Counts
Complete Offroad is very involved with our local community. In conjunction with Kevin Conlon from Behr Funeral home and select other vendors, we restored and maintain a vintage CJ2A Jeep, made to mimic an M38, for the local Veterans Freedom Center as well as maintain a WWII M38 for the local Marine Corps League. Both of these Jeeps are used for community events to help our veterans and their families.
While on display in our showroom, these vehicles bring out stories of times past while veterans of all ages are sparked to tell us stories of how ingrained in our history the Jeep truly is.
We are very involved with and host runs for multiple local off road clubs and organizations such as the Tri-State Stump Jumpers, Mississippi Valley Jeepers and others.
In 2013, we built a Jeep for Bubba Rope and participated in Peterson's 4 Wheel and Off Road "Ultimate Adventure 2013." Then, in 2014, we had the privilege to bring the world to Iowa and show some Iowa four wheeling while we hosted the "Ultimate Adventure 2014" at the private Complete Offroad Ranch.
Our Team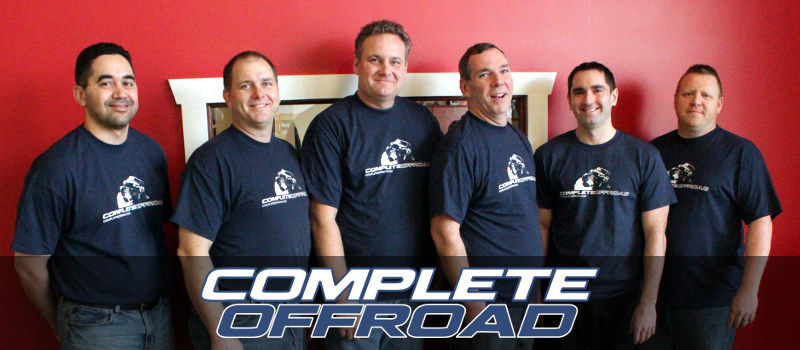 From left to right: Chris Kelz - Accounting, Rich Conlon - President and Owner, Kevin Conlon - Vice President, Terry Brown - Master Mechanic, Jered Shipley - IT, Andy Steil - General Manager
About Rich Conlon, Owner/President
When I was 14, my Dad purchased an old, beat up 1974 CJ5 that we rebuilt and it eventually became my first vehicle. That was the first of many Jeeps in my life, but that was the one that sparked the love of the Jeep for me.
I am a former president of the Tri State Stump Jumpers off road club.
I have wheeled from coast to coast.
I have restored muscle cars.
I have worked on a pit crews for SCCA BMW racing teams for 11 years, including pitting for the 1997 24 Hours of Daytona.
I have participated in Peterson's 4 Wheel and Off Road Ultimate in 2013 and 2014.
I have been a competitor in the 4400 class of Ultra 4 racing series and King of the Hammers races with Dustin Sexton for three years now.
I currently wheel a 5.0 Mustang powered Jeep TJ, the shop's Ultimate Adventure JKU and am the proud(?) owner of a pair of vintage Jeep FCs.
Contact Us or, Better Yet, Stop By – We Want to Help!
To see what we're up to, be sure to follow us on Facebook and subscribe to our newsletter.
Complete Offroad
2500 Kerper Blvd
Dubuque, Iowa 52001
Toll Free: 888-233-9667
Local: 563-583-5363
Fax: 563-556-4254
Email: sales@completeoffroad.com